The Bruce Bell History Project
YORK'S FIRST JAIL PLAQUE
Installing YORK'S FIRST JAIL plaque at the Le Royal Meridien King Edward Hotel, King Street E at Leader Lane, Toronto June 15, 2005
Left to right: Toronto Police Chief Bill Blair, Bruce Bell, City Councilor Pam McConnell, King Edward's operations manager Robbie Bishop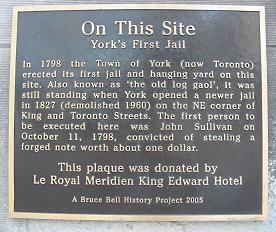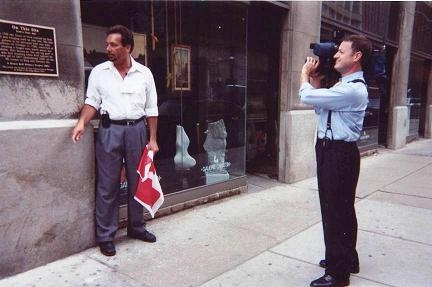 Bruce Bell and CITY-TV's Kevin Frankish filming in front of First Jail plaque June 2005
GREAT FIRE OF 1849 PLAQUE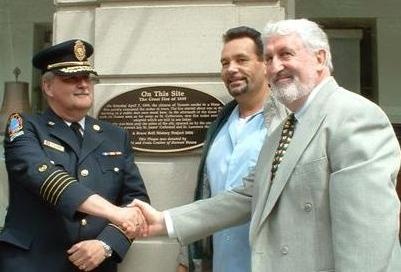 THE GREAT FIRE 1849 Plaque unveiling 160 King Street E Toronto May 2004
Left to right Toronto Fire Chief William Stewart, Bruce Bell and Harvest House owner Mo Coulter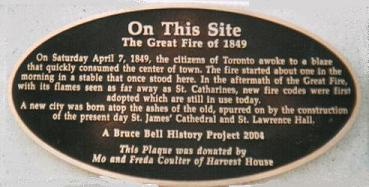 THE MAYORS VISIT
Bruce Bell hosts Mayor Richard Daley of Chicago & Mayor David Miller Miller of Toronto visit St Lawrence Market May 2005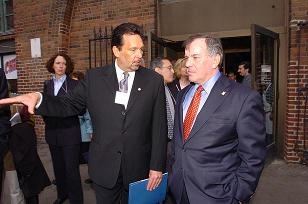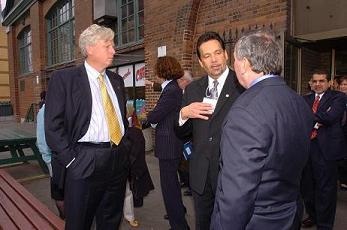 Lount and Matthews Plaque
Plaque unveiled March 2003 corner of Toronto and Court Streets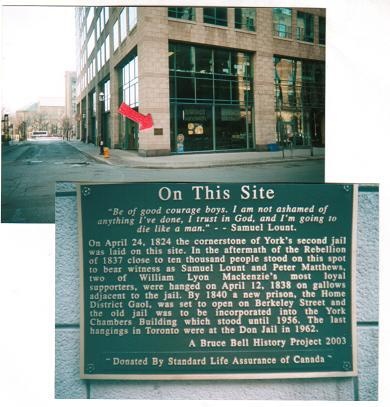 ROBERT BALDWIN PLAQUE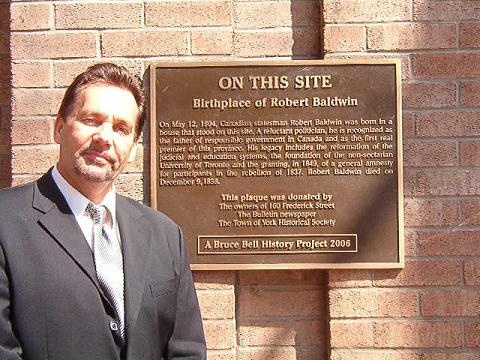 Plaque Unveiling of the Birthplace of Robert Baldwin
June 14, 2006 northwest corner of Front and Frederick Streets, Toronto
Honourary Historian of 51 Division Heritage Building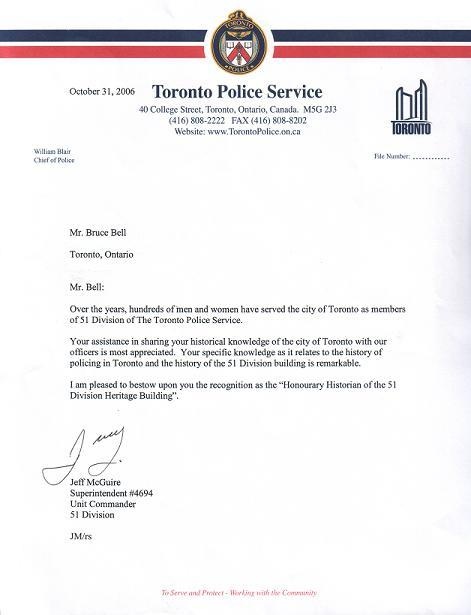 In October 2006 Bruce Bell was named honourary historian of 51 Division's new headquarters, the former Consumers' Gas Purifing House built in 1898
Hockey Hall of Fame
In October of 2004 Bruce Bell was named honourary historian of the Hockey Hall of Fame Heritage Building by the governing board of the Hockey Hall of Fame
Bruce (centre) with former Leaf Pete Conacher (right) and Frank Selke Jr. at the Hockey Hall of Fame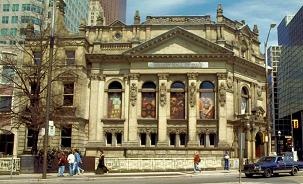 ___________________________________________
Suites at One King West & the History of Toronto
Click link to see Bruce on HGTV talking about One King West
http://www.hgtv.ca/blog/archive/2009/08/10/video-tour-of-archi-marvel-hotel-one-king-west.aspx
By Bruce Bell
This unprecedented 'museum' is located in the historic Dominion Bank Building with its modern 50 story addition on the SW corner of Yonge and King now renamed 'Suites at One King West' downtown Toronto's newest hotel/condo development. This exhibit includes photo's (past and present), maps, documents, renderings, and the detailed story of Toronto's history throughout the entire building both the in historic Dominion Bank section as well as the new tower. Each floor has a large panel next to the elevator telling guests about a particular event, person and historic building in Toronto's past. For example the 5th floor is entitled Palaces of Power: Toronto's City Halls and tells the story of Toronto four City Halls, the 2 most famous of course being Old City Hall and New City Hall on Queen Street. The 6th floor tells the story of Toronto's great homes including Campbell House and the Grange which are in walking distance from the hotel. The exhibit was put together by myself with the help of Dana King and was the brainchild of maverick developer Harry Stinson.
Ground Floor: The lobby
Part 1: James Austin and the Dominion Bank: The Early Years
Part 2: James Austin Birth of an Empire
Part 3: James Austin A Vision Reborn
Great Hotels of Toronto
Historic Bank South Elevators
Floor 5: Palaces of Power: Toronto's City Halls
Floor 6: Great Homes
Floor 7: Houses of Worship
Floor 8: Great Hotels
Floor 9: Cultural Venues
Floor 10: History of Theatre Part I
Floor 11: History of Theatre Part II
Floor 12: (The Austin Gallery) The History of James Austin and the Dominion Bank
Floor 14: Toronto: The early years:
Floor 15: History of the Railroad in Toronto
Floor 17: History of Toronto Maple Leafs (Gym Floor)
Floor 18: History of the Dry Goods Stores
Tower North Elevators
Floor 19: Toronto Island Part 1 Hanlan's Point
Floor 20: Toronto Island Part 2 Algonquin and Wards Island
Floor 21: Toronto Island Part 3 Centre Island
Floor 22: The History of Toronto Street
Floor 23: Toronto in the 1920's: Part 1
Floor 24: Toronto in the 1920's: Part 2
Floor 25: The Rise of 1960's Modern Architecture
Floor 26: The History of Royal Alexandra Theatre
Floor 27: Winter Garden Theatre
Floor 28: Neighbourhoods: Corktown
Floor 29: Neighbourhoods: Yorkville & Rosedale
Floor 30: War of 1812
Floor 31: Rebellion of 1837
Floor 32: Great Parks of Toronto Parks
Floor 33: Hockey Hall of Fame and Air Canada Centre
Floor 34: University Ave
Floor 35: University of Toronto
Floor 36: Great Homes of Toronto: The Grange
Floor 37: St Lawrence Market, Kensington, Eaton Centre
Floor 38: The Esplanade
Floor 39: The Bank of Upper Canada
Floor 40: Pantages Theatre
Floor 41: CN Tower & Rogers Centre
Floor 42: CNE & Ontario Place
Floor 43: Niagara Falls
Floor 44: Roy Thompson Hall, Massey Hall & the Carlu
Floor 45: Distillery District
Floor 46: Gooderham (Flatiron) Building
Floor 47: Early Toronto: Frederick Street
Floor 48: St Lawrence Hall
Floor 49: Number 10 Toronto Street (7th Post Office)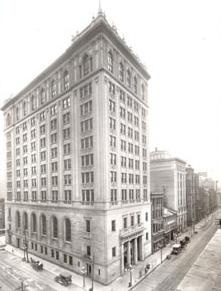 The Dominion Bank in 1919 Bruce standing beside 'Toronto City Hall' panel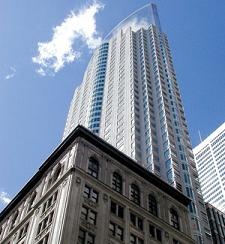 Suites at One King West today
________________________________________________________
St Lawrence Hall
In May 2006 Bruce Bell along with the Market Gallery put together a series of portraits of some of the well known people, who either lectured, sang, danced or were entertained at St Lawrence Hall during the 19th & 20th centuries. This portrait gallery is on the third floor of St Lawrence Hall in the anteroom of the East Room (formerly St. Patrick's Hall)
King Edward VII (as the Prince of Wales)
John A MacDonald (First Prime Minister of Canada)
Frederick Douglass (American abolitionist)
Jenny Lind (Opera star)
General Tom Thumb (Entertainer extraordinaire)
The Great Farini (Tightrope walker)
George Thompson (First person to speak in St. Lawrence Hall opening day)
Adelina Patti (Opera star)
Jem Mace (Boxing champion)
Sigsmund Thalberg (Violinist)
William Thomas (Architect of St Lawrence Hall)
Eric Arthur (Restorer of St Lawrence Hall in 1967)
Celia Franca (Founder of the National Ballet)
Rudolph Nureyev (Ballet great)
Lord Monck (Canada's first Governor General)
William Lyon Mackenzie (Toronto First Mayor)
Thomas D'Arcy McGee (Father of Confederation)
Pierre Trudeau (Canada's fifteenth Prime Minister)
Phineas Taylor Barnum (Impresario)
Bruce Bell (Historian)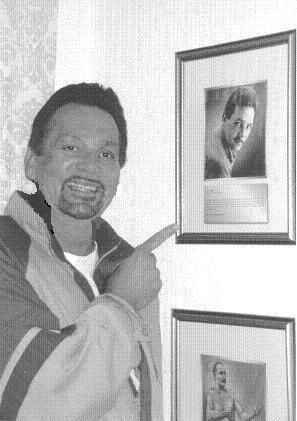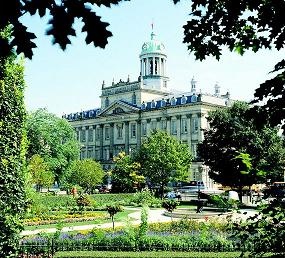 Bruce standing beside his portrait in St. Lawrence Hall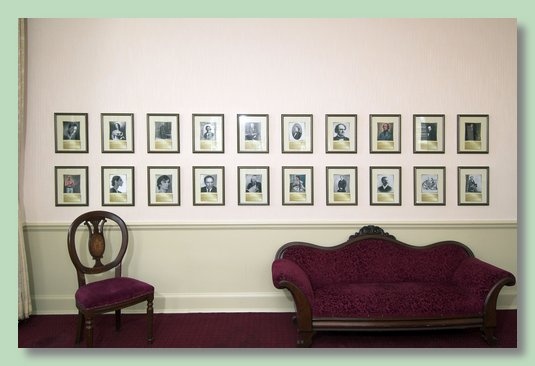 Fairmont Royal York Hotel
In 1973 at the tender age of 18 while working at Toronto's Royal York Hotel Bruce Bell receives the Ambassador of the Month Award from then Ontario Minister of Tourism Claude Bennett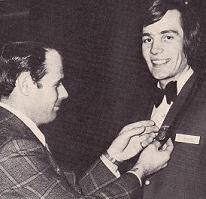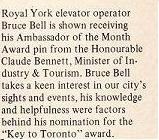 And many years later in 2007 Bruce Bell is named Honourary Historian of the same hotel, now called the Fairmont Royal York Hotel.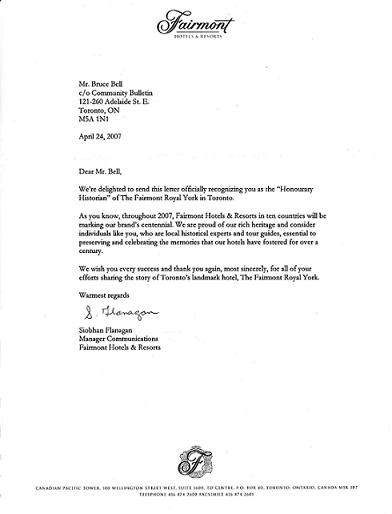 _____________________________________________________
Bruce Bell standing in front of his photo display of historic Toronto Street at Pizzaiola Resturant at One Toronto Street
**********************************************
King Edward Hotel lobby display for 110th anniversary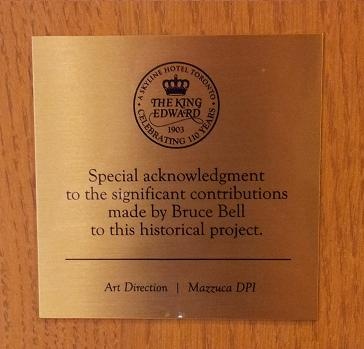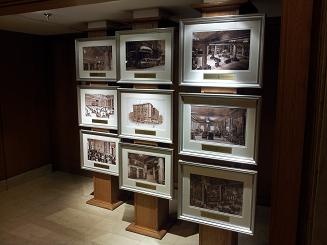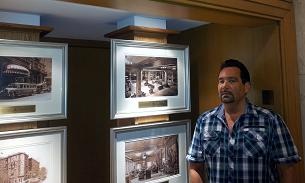 return to homepage
www.brucebelltours.ca